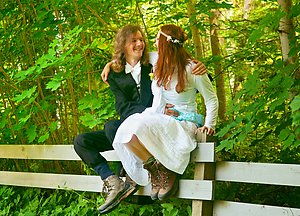 Sandra and I are married now. Our wedding took place at a red wooden house by a lake with a sauna for relaxing after the main party. We had beautiful weather, excellent food, great music, and around 50 friends and relatives celebrating with us on our special day.
We wanted a leisurely atmosphere where nobody would feel being in a hurry. So we chose a location surrounded by nature and rented the place for the whole weekend. Preparations were done on Friday evening and guests were invited to come around midday on Saturday. There was no deadline at what time the party should end, and everybody who wanted could stay overnight until Sunday without any extra cost. Also our bed for the wedding night was prepared at the attic of the main house — we didn't see any reason to leave our own party and go to sleep in a hotel.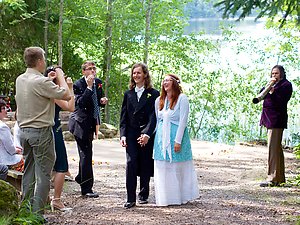 The wedding ceremony was outside at the lakeshore, accompanied with didgeridoo tunes which many guests found quite exciting. After the formalities we received congratulations and raised a toast with everybody, followed by a buffet style meal. My father gave a speech, my brother sang and our friends entertained the guests by inviting us in the traditional shoe game. Then four ex-colleagues of mine from CSC took the stage with their guitars and drums: it was time for the wedding waltz. After an hour of dancing, cake was served and music turned towards rock. During the following two hours about half of the guests said their goodbyes, heading back home. But the party was still far from over.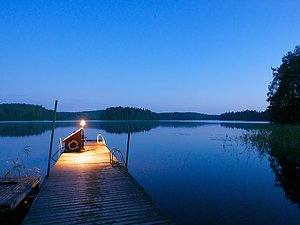 The sauna was hot starting from 8 pm. Sandra and I originally met at a sauna evening in Helsinki so it was natural to have sauna in our wedding too. The first hour was reserved for women, after that all were welcome to join. The cook, the waiters and the band members came as well. Fancy clothes were changed into towels, people went swimming in the lake, came back for another round in the sauna, chatted with each other on the terrace. After the sunset the band brought their acoustic instruments and played for several hours into the warm summer night: a perfect ending to the long day.
On Sunday morning we had breakfast together with everybody who had stayed overnight. There was still plenty of food left so all who wanted could take some and skip cooking for the next couple of days. With the help of guests we cleaned up the place and headed back home, exhausted but happy.
Our honeymoon trip will be to South America and Antarctica during the summer months of the Southern Hemisphere — which means during the winter in Europe. Details are still open, but because we like slow travel, the trip will certainly be longer than just one month. Before leaving, we'll spend the autumn at home in Southern Germany.
The photos on this page were taken by Panu Hällfors, all rights reserved. Please take a look at the larger selection on his home page.
3 comments
Comment
from:
Aaro "Frank" Huhtala
[Visitor]
Congratulations both of you.
2014-09-20 @ 08:04
Comment
from:
Katri Kulju
[Visitor]
Lämpimät onnittelut!
2014-09-21 @ 07:42
Beautiful photos, I'm sure it was a beautiful wedding. Too bad I couln't make it!
2014-09-22 @ 13:08
---
Copyright
Arto Teräs
<ajt@iki.fi>
, licensed under the
Creative Commons Attribution-Share Alike 3.0 Unported License
. (Unless otherwise mentioned in individual photos or other content.)