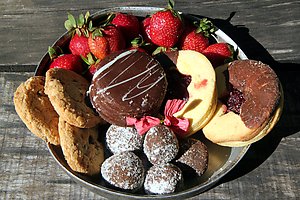 This year we spent an alternative Christmas by camping and visiting thermal baths along a small road crossing the Andes between Coñaripe, Chile and San Martin de Los Andes, Argentina. In the morning of Christmas eve we were the last time within the reach of mobile networks and sent some "Merry Christmas" messages to our family and friends, before being unreachable for several days.
On December 23rd we cycled from Coñaripe on the shore of Lake Calafquén further south-east to Liquiñe, the last village before the climb up to the Carririñe mountain pass and the Chilean-Argentinian border. There were several thermal baths in the village and nearby. We followed the suggestion of the tourist info and chose a modest one called Termas Trafipan where it was also possible to camp. It had one bigger pool with warm water, perhaps around 35 degrees, and a separate building with small private rooms, each containing a bath tub. Nothing fancy, but a good place to wash out the dust of the road.
Being used to Europe it was a little funny to have Christmas in the summer, in the middle of strawberry and raspberry season. The shops in Liquiñe didn't have a very large selection of fruits, but we did find strawberries in one of them. Knowing that it would be the last chance of shopping before over 100 km of slow mountain roads, we also bought some apples and bananas before heading forwards. A sufficient stock of rice, pasta and other dry foods we had already acquired a couple of days earlier.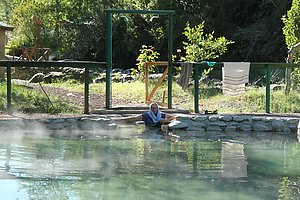 After 10 km of up and downhills we came to Termas Hipolito Muñoz. After a short look around it was clear that we'd stop there for the rest of the Christmas eve. It had an idyllic setting in the river valley, plenty of trees to provide shade from the afternoon sun and good, clean sanitary facilities. For bathing, there was one warm pool and another hot one with clearly over 40 degrees, plus showers and the river providing for cold water. All of them were outside, open day and night so it was possible to take a bath under the stars too. It was peaceful and quiet, simply a wonderful place. There was also a small rustic steam sauna, which looked interesting but the smell of sulfur was so strong that we came out after a few seconds.
There would have been cabins to rent but the weather was constantly sunny so we didn't see any need for one and set up our tent. We were the only ones camping, in addition to us there were just one family in a cabin and a couple of day guests who didn't stay overnight. We spent a relaxed afternoon in and outside the pools before preparing dinner. It consisted of spaghetti with tomato sauce, followed by tea, strawberries and a selection of cookies for dessert. We invited a Chilean couple to share the cookies with us and they brought us orange juice and avocadoes, which we had for breakfast next morning. After the sunset we had a night bath before going to sleep.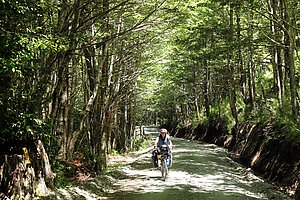 We thought of staying a second day but decided to continue towards the border on the following day. The road became smaller and smaller but at the same time easier to cycle, because the surface was smoother than on most gravel roads which are covered with a layer of small stones. Traffic was non-existant, so we also didn't have any dust to worry about. In the afternoon we reached the Chilean border post, which was manned but closed. The suprised border guards had a short negotiation between them about whether we could stay at the border, but decided to send us away. We pedaled about a kilometer back, camped in the forest out of sight of the guards and came back the next morning.
This time we had better luck, there had been a change of shift and the new guards were ready to open the border. We were apparently the first ones wanting to cross, as it took a bit of time before they started their computer, examined our documents, took a photo of us with a mobile phone (!), and adjusted the right date in the stamp after first stamping our passports with completely wrong date. All of that was carried out in a very friendly manner and then we were off towards Argentina.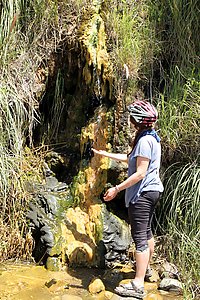 The last three kilometers before the highest point of the pass were very steep and we had to push our bikes at least half of the way. After that it was almost as steep downhill on the Argentinian side, descending to the Lanin National Park. There we had one more visit to thermal pools, this time free ones next to a trail in the park. However, those pools had more murky water and were in general less attractive so we didn't spend too much time there.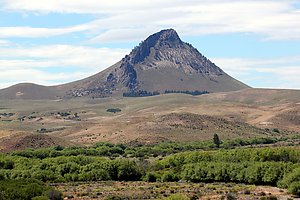 It took us two days to cycle through the park. It had less trails and facilities than the parks we had been visiting in Chile, but a similar mix of forest, lakes, rivers and mountains. When moving more east the terrain became slowly more and more dry, opening a whole new type of scenery in front of us. Eventually we also reached the Argentinian border control post, which was more than 50 km away from the actual border. Again stamps in the passports and we were officially in a new country. One more day of cycling brought us to San Martin de Los Andes, the biggest town of the region with about 24000 inhabitants.
No feedback yet
---
Copyright
Arto Teräs
<ajt@iki.fi>
, licensed under the
Creative Commons Attribution-Share Alike 3.0 Unported License
. (Unless otherwise mentioned in individual photos or other content.)