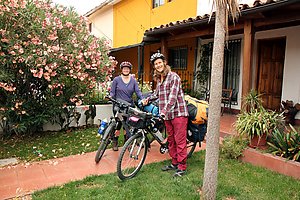 Our honeymoon trip has begun. We are currently in Curacautin in Chile, about 600 km south of Santiago and will continue towards the south. We plan to travel mainly by bicycle and take a bus or ferry for some parts of the way to reach Ushuaia, Argentina by the end of February. Here on the southern hemisphere it's the beginning of summer, with daily maximum temperatures between 20 and 30 °C and nightly minimum around 10 °C. It will get colder towards the south, but should still be good weather for camping and outdoor life.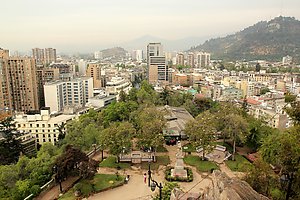 We packed our bicycles and other gear in two carton boxes and two backpacks and flew to Santiago, where we had the pleasure of staying with the family of Elba, our Spanish teacher in Germany. That was a great introduction to Chilean culture and a full time Spanish course for a week, with different family members coming by and talking with us. In addition to seeing around in the city and spending time with the family we took care of various practical things such as changing money, getting Chilean SIM cards for our phones and reassembling our bicycles. We also did a 1,5 day bus trip to Valparaiso, a seaside city with old colourful houses on hills.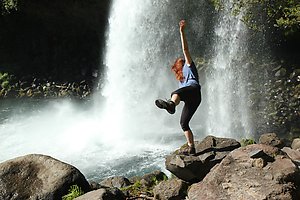 From Santiago we took a bus 400 km south to Chillan, a city of about 160 000 inhabitants in the Bio-Bio region. It was already much more relaxed than the metropolitan region and our Couchsurfing host Camila took us to a trip to the nature near the mountains. We walked to an idyllic spot by the Diguillin river, went swimming in the crystal clear water and had a picnic on the riverside rocks enjoying the sun. There was also a beautiful waterfall with a possibility to go in a small cave behind the falling water.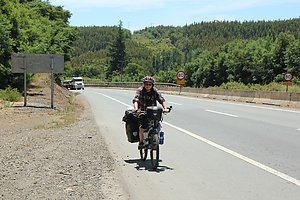 From Chillan we started our cycling tour, first following the Pan-American Highway (Panamericana). It is the main route going across the whole North, Central and South America. It was noisy and not the nicest road to cycle on, but quite safe because of the large shoulders and not as bad for the amount of traffic as most highways in Germany. In some places it was also possible to ride on a smaller service road next to the main highway.
About 80 km further south we stopped to see Saltos de Laja, well known waterfalls near the Panamericana. The walkway to the falls was lined with snack and souvenir shops, but the waterfalls themselves and the river were in a natural state, not spoiled with fences or other constructions. A great view and a refreshing shower of millions of tiny waterdrops carried by the wind from the falls.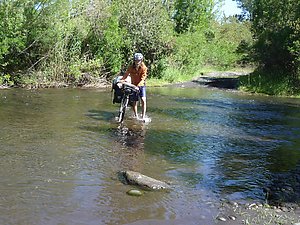 After Saltos de Laja we chose an alternative route and got our first taste of gravel roads in Chile. First it was quite good to cycle but soon turned into fairly rough and narrow road. At one point we even had to cross a 10 meters wide and 20 cm deep river. One house had a sign saying cheese for sale — we bought some homemade fresh cheese and got a big bag of cherries from the garden as a present. It took us more than 3 hours to cycle the 20 km gravel section, but traffic was minimal and the scenery beautiful so it wasn't too bad. The last 10 km were nice, paved, quiet road and after that we joined the Panamericana again for two days.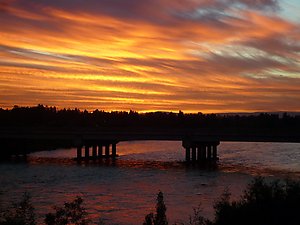 During the 240 km between the cities of Chillan and Victoria we camped four nights, every time next to a river. One of them was a campsite with facilities, in all other cases we just looked for a place ourselves or asked the locals where to pitch the tent. Sometimes it took a bit of time to find a suitable spot, as fields and forests tend to be surrounded by fences, but mostly it was quite easy. The rivers were clean and good to swim in, for cooking and drinking we filled our water bottles beforehand at a gas station or by asking for water at a house by the roadside. We're glad that tap water is drinkable almost everywhere in Chile, so we don't have to buy and leave behind heaps of plastic bottles.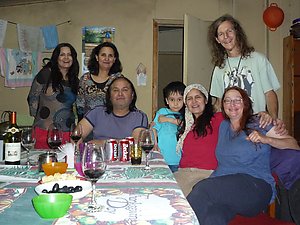 In Victoria we thought about going to a guesthouse, but had hard time deciding whether to look for one in the city or cycle still a bit forwards. Just as we thought about leaving from the tourist info, a woman came to talk to us and invited us for a tea at her home. She was Veronica, an English teacher who wanted to practise her English with us. That suited us perfectly, we followed her to her house, had not only tea but also something to eat and soon also a place to stay. Her sisters and other members of the family came to meet us too so we had both English and Spanish practise. We showed some photos of Finland and Germany, had a bit of wine and spent a nice evening with our new friends.
From Victoria we continued further east towards the mountains on a nice, relatively quiet paved road. We saw some amazing volcanic scenery in Malalcahuello National Reserve, and tomorrow we're heading to the Conguillio National Park, planning to cross it from north to south.
Back home in Germany we arranged through CouchSurfing that a small Czech family of three are living in our flat through winter and spring until we're coming back. They're taking care of our cat Germaine, so we can travel with a peaceful mind knowing that she's in good hands.
2 comments
Comment
from:
Joni Virtanen
[Visitor]
Nice trip! Bon voyage!
2014-12-14 @ 22:57
Comment
from:
Helio e Lori
[Visitor]
Muy lindo viaje, congratulaciones a los dos! Abrazos!
2015-01-13 @ 14:04
---
Copyright
Arto Teräs
<ajt@iki.fi>
, licensed under the
Creative Commons Attribution-Share Alike 3.0 Unported License
. (Unless otherwise mentioned in individual photos or other content.)