Balttiarallaa Expedition
A year on bicycle in Eastern Europe and Asia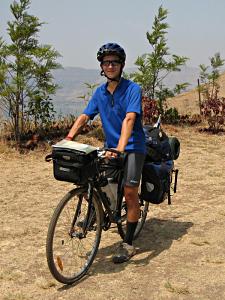 In June 2006, I quit my job, rented out my flat and set out on my longest excursion this far. It was a classic solo tour on bicycle, first leading me through Eastern Europe to Turkey, and later to India, Thailand and Cambodia. I came back in Finland in June 2007, after having lived one year on the road.
Route maps
The continuous line is my cycling route, sections traveled by some other form of transport are shown with dotted lines.
Currently available picture galleries
Articles I wrote in my blog during the trip in chronological order
Why "Balttiarallaa" and "expedition"?
Sure, I wasn't discovering any new land where no-one has been before, but the working title for the trip was Balttiarallaa Expedition and that stuck. In the Balttiarallaa vocabulary a bicycle outing of more than 1000 km is a tour, and more than 10000 km is an expedition. After all, that's surely going to reach further than the area which is commonly known as the Baltics, where we started the Balttiarallaa Tours with my friends Mikko and Sami. They joined me for three weeks during this trip. To be honest, I rode only about 9800 km, but side trips by foot or by canoe to areas difficult to travel by bicycle can be included in the totals, bringing it past the 10k point. :-)
---
Copyright
Arto Teräs
<ajt@iki.fi>
, licensed under the
Creative Commons Attribution-Share Alike 3.0 Unported License
. (Unless otherwise mentioned in individual photos or other content.)
Last update 2007-12-21.